Donation Guidelines
Thank you for donating to Goodwill.
Donation Guidelines
Thank you for considering a donation to Goodwill. Donated items in good condition are tax-deductible, and the proceeds from selling donated items help support Goodwill services. When you give your gently used items a second life and get a tax receipt, people facing employment barriers receive job training and get a second chance at life.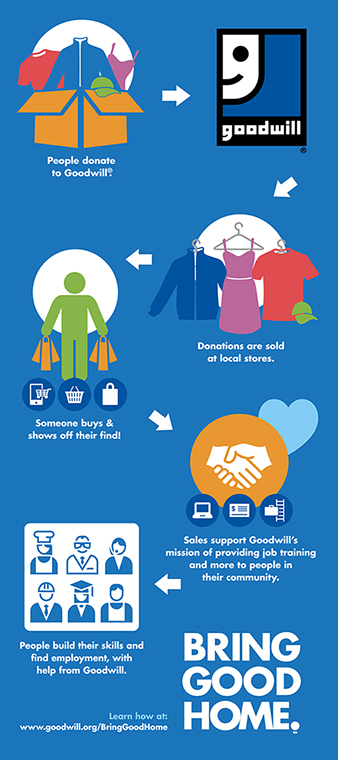 Please donate
Clothing
Shoes and fashion accessories
Furniture
Housewares and home decor
Collectibles and antiques
Books, music, and movies
Household textiles and bedding
Small Appliances
Computers and related accessories
Electronic equipment
Sports equipment
Toys and video games
Flat-panel televisions
We appreciate your donations and want to make sure they can be used to support members of our community who need jobs. Please do not drop off donations outside of our donation sites after hours. Items left outside can be stolen or damaged by the weather.
It's hard to say "no thank you" to a donation. However, there are some items we can't accept because they are excessively soiled, broken, or have been recalled. A good rule of thumb is to consider whether you would give your items to a friend or family member. If not, please consider other disposal methods.
Please Do Not Donate
• Mattresses and box springs
• Hazardous, flammable or toxic materials
• Baby items (except for clothing and shoes)
• Items that have been recalled by the Consumer Product Safety Commission
• Non-flat screen TVs
If you have questions about donating items and what we can accept, please give us a call at 254-753-7337.